It's Sunday, a good day to gloat about how I was right and everyone else who gets paid serious money was a fucking idiot. The Financial Crisis that everyone claims they couldn't possibly see coming? I saw it coming, two years before the collapse–all the way from Moscow. And so I just want to tell all of you lying brainwashed dickheads out there: I toldja so! Yup, that's right: in 2006, two years before the financial collapse, I wrote a big piece in The eXile headlined "Why You're Fucked: FINANCIAL CRISIS II: ANOTHER SEQUEL" predicting that the out-of-control credit bubble would explode and tank the financial system. I'm excerpting it below so that you can all worship me,. I believe the word is "prescience"?
And while we're on the subject, just wanted to remind everyone of the last "who coulda see it coming?" financial collapse that I predicted before anyone else: Russia's 1998 financial crash.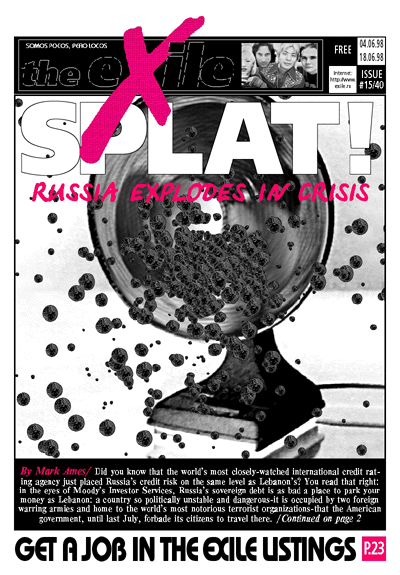 I got it right in 1998…
Okay, now I can hear you asking through gritted teeth, "But if you're so smart, Ames, why ain't you rich?"
Good question. I ask myself that about 150 times a day, and one of the best answers I can come up with is, "Whoever said that there's a relationship between smarts and wealth?" Maybe if my family wealth came from taxpayer handouts like Megan McArdle's, I'd be a rich man today. Or if I was born into a filthy rich family. Inherited wealth, and welfare-for-the-rich seem to be the only paths to riches in this country.
Butcha can't take my gloat away, by gum!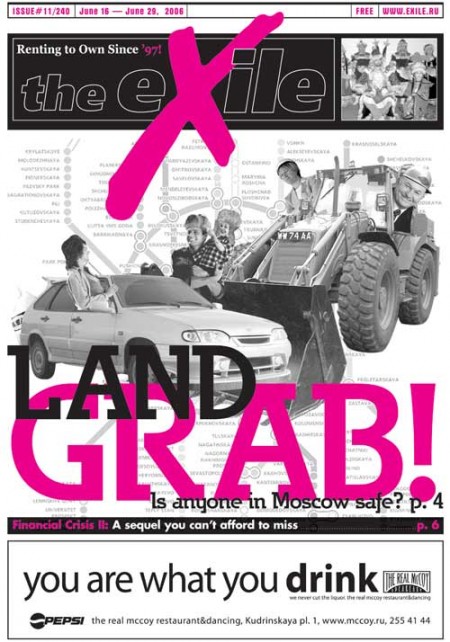 …And I was right about 2008, which I called in 2006. Ha-ha-frickin-ha!
So, getting back to my Sunday gloat: ahem…let me clear my throat here…I WAS FUCKING RIGHT! Yeah, I may be poor, but I'm not a braindead idiot like the rest of you. And while I didn't get rich off being so smart, I also didn't sacrifice my healthy years accumulating capital, only to see the whole thing vanish before my eyes. While you were slaving away in a miserable job, I was living in my body the way God intended: fucking, snorting, and basking in the kind of cult-celebrity glory you fools only dream about. And while your savings vanish and your housing values collapse, the investment I made into being more right than you is something that pays dividends forever.
So now I'm going to cash out a few shares of my "I'M RIGHT AND YOU'RE NOT" investment–behold my gloat, for your eyes and everyone else's, and not only.
Here is an abridged version of my exile article from June 16, 2006:
June 16, 2006
Why You're Fucked
FINANCIAL CRISIS II: ANOTHER SEQUEL
by Mark Ames
Could we be on the verge of another financial catastrophe? I'll admit it: I'm hopeful. First, because I'm poor and spiteful, and secondly, because one of the nice things about financial collapses (like military disasters) is that all the ugly, corrupt realities underpinning a so-called economic boom are revealed, and the worst in humanity is laid bare, and everyone everywhere gets pissed off, cynical, and hopeless. That's the kind of thing that boosts my mood, not to mention my sexual drive. Financial panics are to me what endangered mammal horns are to Chinese men: pure Viagra placebo.
…
In retrospect, the financial crises that ripped through emerging markets in the late 1990s appear inevitable and obvious. So does the bursting of the NASDAQ/dot-com bubble in 2000. But right up to the day of the Asian/Russian collapses, no one expected them, and no one understood them, because the circumstances, and in particular the terminology, had not yet been incorporated into popular financial-crisis discourse.
So what is happening globally this time? What's the word that everyone's going to "get" this time around, just as the last time around words like "debt burden" went from being vague economics terms to obvious explanations for why those markets collapsed.
Last time it was a debt bubble. This time it's a credit bubble. (italicized bold in original–MA) What that means is that since 2000-1, when the US markets crashed and the economy headed into a recession, the US Central Bank pumped shitloads of money (liquidity) via ridiculously low interest rates. This meant that people had not so much "more money" as "easy-to-access" money which they used to buy houses. All that easy money meant housing prices soared for five years straight, to levels unprecedented when compared to the average Joe's stagnating income. However, all the Joes who owned houses saw their asset prices soar, much like those who held NASDAQ stocks in the 90s saw their stock portfolios soar, and that meant more money to spend on everything from plasma TVs to hybrid SUVs, liposuctions surgeries and everything else sold on credit. The US government worked the same voodoo on its budget — massively increasing spending while at the same time cutting tax revenues. In other words, offering easy, free money to itself.
This easy money, and easy credit, is even easier in other parts of the world. China has seen its money supply grow 20% over the last year, and credit growth has soared 30% in India. The same has been happening in Europe, Japan, and of course Russia, where Russians are offered easy loans to "purchase" everything from vacations in Turkey to crap apartments in podmoskovie.
While in the last crisis, emerging market economies like Russia were forced to issue bonds at increasingly high interest rates in order to finance other high-interest-rate bonds they couldn't pay off, this time around, thanks to all the easy money and the weak dollar, yields on emerging market bonds are illogically low, approaching developed economy bond yields. Meantime, junk bonds issuance is at its highest rate since the 1999 speculative peak. Mergers and acquisitions are bursting all records. Much of this is financed by debt, and all kinds of popular, profitable debt schemes like repos, credit swaps, and all sorts of "esoteric" debt products and instruments.
Central bank reserves in Russia are approaching an insane $240 billion, while China's $880 billion now exceeds Japan's. More and more money is being pumped, inflating prices on any piece of crap asset, from Brazilian bonds to partly-built Moscow panel apartment blocks.
Just as record low interest rates in the US led to unprecedented rises in housing prices, year after year, all this easy money is leading to massive price rises in commodities. Copper has doubled just this year alone. Oil — everyone here knows what's happened. In Moscow and elsewhere in Russia, housing prices have soared every year since 1999, including 45% in Moscow just this year alone. The stock market also boomed 50% before falling.
This is the bubble. Easy credit swells prices to ridiculous heights. The credit-issuance bubble is untenable. And now it's starting to pop. And what's making it pop is an ever-so-slight pullback from five years of reckless easy money in the US, where it all started — in the form of today's higher US Federal Reserve interest rates. Even though they've raised rates 16 times, they're set to continue raising rates because inflation is still rising, and the dollar is still weak. The catch is that inflation is rising because of the easy credit. If the credit's cut off, inflation will slow, but the bubble will pop and take the whole thing crashing down. If credit remains easy, inflation will continue to spin out of control, requiring even more credit tightening later and an even bigger bubble burst.
Recent signals that the Fed planned to continue raising rates were the catalyst for this past month's credit-bubble pop — and why Russia's stock market is tanking. That's because the US still controls, to an incredible degree, international finance. If US rates keep going up, that means money gets less and less easy. No one in the financial markets world wants to be the last to the gate. So they pull out of the speculative markets first — like Russia — and as the bubble burst grows, money retreats to safe places, such as US bonds, which are now returning rates not all that different from Brazilian bonds. Panic sets in — money follows money, and just as asset inflation becomes irrational, so does asset deflation.
The bottom line is this: the global economy is experiencing one of those insane, untenable imbalances, all emanating from New York and Washington, just like the last time around, most of the effects of which will be felt in Mumbai, Istanbul and Moscow.
As the easy credit dries up in the US, assets that inflated most wildly — like American houses and Russian stocks — are the first to fall. And both already are.
What's happening with emerging market stocks is just a snapshot of what's to come. In just the last month, the stock market selloffs have wiped out $2 trillion in wealth around the globe. That's scary, and that means that more money's going to be leaving places like Russia. And just like last time, first it's the stocks and bonds that get hit, and eventually, property prices get creamed as more and more money leaves.
How far everything will fall, and for how long, is anyone's guess. All one can do is hope. And my hope is that the whole fucking house of cards comes crashing down, to the point where in a couple of years from now, humanoids will be roaming barren cities in packs, competing with crows and stray dogs for carcass bones. Because when that happens, everything, even a nifty three-room apartment in Kitai Gorod, or a humble condo at Zuma Beach in Malibu, will be affordable to a lifelong fuckup like me.
So keep the easy credit rolling, ye greedy finance goons…the higher it rises, the harder it will fall. And the more for me.
http://exiledonline.com/the-czar-of-right-i-mark-ames-predicted-the-financial-crisis-and-you-didnt-ha-ha-ha/
Is a USA Economic Collapse Due in 2005?
by F. William Engdahl