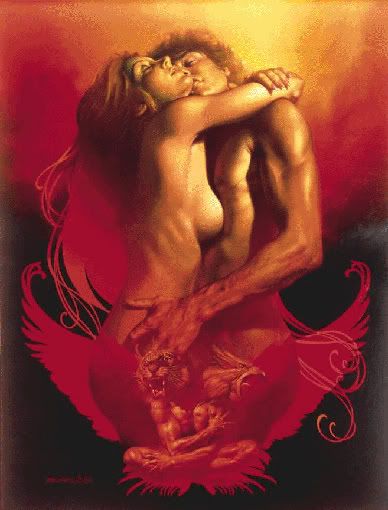 Merry Meet To All,

I believe that in the Matters of the Heart, the main reason some people stray or even cheat is done out of boredom and sometimes it may very well be that the love has ended, in the case of the latter I have found this to be unfounded and untrue with the bulk of the people that I work with and in most situations the love is there but the true interaction and understanding is not!

Part of the way that someone can turn on their love magnet is to learn to tap into their love energy, love is an emotion that is felt, it comes from the heart, one of the ways that I turn on my love magnet is pretty much like setting the stage for a play, or using props in a circle to allow the practitioner and participants to attune their will and to direct their energy, let's face it if you came out of a bad relationship where your partner was always upset, mad or self centered to a point that you felt there was not enough room in the relationship for the three of you, you, him and his ego, you would more than likely go and look for just the opposite, unless you were one of those individuals who gets their jollies from being controlled, hurt and unhappy!

So let's say that you are an individual who comes to me seeking help to reunite with your lover, and of course it is on your mind as to what you can do while the spells are being cast or while you are waiting for the energy to manifest, try surrounding yourself with love, pretty flowers, scented oils, red and pink candles, for the love and sexual energy, blue candles for peace, harmony and tranquility or you could just sit there and be the same miserable piece of work that you were before contacting me or you can get motivated and put forth the much needed energy towards manifesting your desires and goals. You need to mirror or portray just the opposite of what sent your mate packing in the first place, set the mood and project the image!

When you have sex with someone, your soul and aura intermingle, intertwine and interlock, if it is a casual thing the energy tends to fade after a while, however if it is serious and it has surpassed the physical into the emotional a link has been created between the two of you that will become stronger and stronger as time goes on, For example if your Love One feel unwell you will not feel good too, if him/her is in a bad patch, you will be affected too. You will be able to know each other behaviour prior to actions, if something bad going to happen to your partner, you may just feel it instinctively.

Being intimately involved with him/her a link had been created that bonds two person together, and through that link your partner can pick up on the changes in your behavior and mood even if he or she is not with you physically at the moment, this is why it is so very important to tap into those feelings of love, exude and project positive emotions, because on some level even if he/she may not be aware of it he/she will feel that energy and it will most certainly aid you in your plight of reconnecting with him/her and rekindling the spark between you, in essence you are programming the response that you wish to receive from him/her.

You have to understand the reasons that your relationship ended, by developing an understanding and by knowing the motivation behind the action you can work towards manifesting change, if things ended on a bad-note you may not have the benefit of first hand knowledge from your mate, however you are an intelligent being and if you study the situation long enough you will be able to determine where things went wrong and work towards repairing the damage.

Blessed Be,
Oceanos



© copyright by ~*~ LIGHT OF ATLANTIS ~*~ All rights reserved.