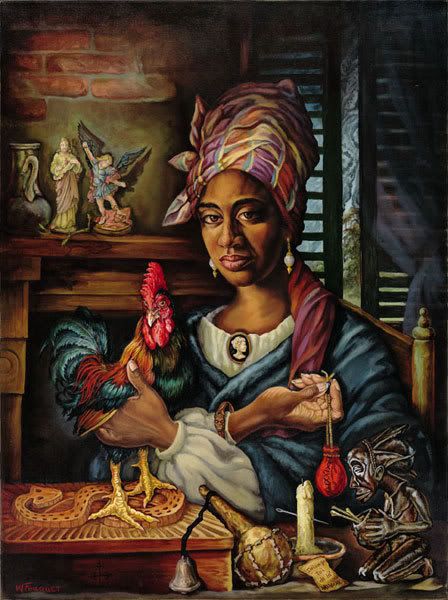 Brief introduction on Mojo bag

Mojo originated as a term with a specific meaning, but in the late 20th century became a very fluid term with many different meanings. It originated as a reference to a type of magic charm. The word traces its origins to Africa and entered English in the late 19th century or early 20th century through use by African-Americans. It reflects the belief, common in many cultures, that some people have the ability to influence others to their own advantage, by casting spells or hexes.

In African-American folk beliefs, especially in the rural U.S. South early in the 20th century, a mojo was a small bag worn by a person under the clothes (also known as a mojo hand ). Such bags were thought to have supernatural powers, such as protecting from evil, bringing good luck, etc. The mojo bag usually contained a mix of Magickal herbs, powders, sometimes a coin, and other objects thought to promote supernatural action or protection.

What is a "Mojo Bag"? Its many "Uses" & "Effacies".

A mixture of Magickal herbs, talismans, roots, powders & stones in a muslin, flannel, felt or chamois bag that should be carried with you at all times to get a specific desired effect. That is a Mojo Bag.

Also known as an "Ouanga" ,"Conjure" , "Gris Gris" or "Medicine" bag ,regardless of the area in which the name was derived or the culture you may be familiar with ,they are all used for the same basic thing & prescribe to the same basic principle; To attract to or dispel from the wearer, certain influences. Thus they can be made for just about any purpose under the sun. They imply faith and serve as a link beween that in which you believe and that which you desire.

Mojo Bags are usually worn around the neck or pinned inside the undergarments so that they are in touch with your skin. However ,in a pocket or bag is also fine in any case.

(Items used in each Mojo Bag varied depending to the goal and not all above items are used in every Mojo Bag)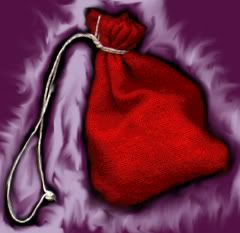 ~*~ LIGHT OF ATLANTIS ~*~ "Mojo Bags" are entirely handcrafted, witch-crafted by Oceanos. A small yet powerful charm bag used to attract or dispel certain influences. My Mojo bags are filled with a variety of magickal items such as stones, feathers, Talisman or Amulet and exotic herbs & roots that are blended exclusively for a specific intent depending on what is it used for. Mojo bags can then be carried in a pocket, or worn a Mojo Bag on a belt or necklace, or carry your Mojo Bag in a purse, used as focused intent during a spellworking or whatever the need may be. Mojo Bags are commonly used by just about anyone regardless of tradition, religions or whether a practitioner of magick.


~ A simple Mojo bag ~

For a Mojo to work properly, everything put into the bag must possess the appropriate magickal vibration corresponding to the spell. For instance, a Mojo bag made for the purpose of attracting prosperity should contain only herbs & botanicals, gemstones, curios or other objects associated with Money Magick or Symbolic of Wealth & Abundance.

All ~*~ LIGHT OF ATLANTIS ~*~ "Mojo bags" will be consecrated and charged for their own magical vibration corresponding to the specific goals & needs by Oceanos. You will also receive instructions for you to use the Mojo bag properly.

When using Mojo Bags, you don't need not to be a practitioner of magick to use, attract or dispel certain influences. As always, i will custom create something specifically for your needs on request.

A "Mojo Bag" with proper use & keeping can last you a life time, It can cater for your every needs & help you in attaining your goals with its guiding energies! It is simple to use & fast effects with very tangible & visible results.

Anyone interested in getting one of these powerful charm can always pm me or post in here & i will get back to you as soon as possible...

)O( Brightest Blessings,
Oceanos



© copyright by ~*~ LIGHT OF ATLANTIS ~*~ All rights reserved.


TERMS & CONDITIONS OF USE

Disclaimer

*By Law, ~*~ LIGHT OF ATLANTIS ~*~ make no claims as to the mystical and esoteric abilities of products. However, all information has been faithfully gathered from ancient reference books & folklore beliefs & presented as such.

All Informations & Products provided by ~*~ LIGHT OF ATLANTIS ~*~ on an "as is" and "as available" basis.

~*~ LIGHT OF ATLANTIS ~*~ attempt to be as accurate as possible. However, ~*~ LIGHT OF ATLANTIS ~*~ does not warrant that product descriptions or other content of this site is accurate, complete, reliable, current, or error-free. Sole-discretion & liability of user.

~*~ LIGHT OF ATLANTIS ~*~ reserved all the Rights to reject any special request if its not for One's needs or greater good. ~*~ LIGHT OF ATLANTIS ~*~ is not responsible for any "Misuse" or "Abuse" of its "Products" once the goods had passed to the Buyer or New owner.

~*~ LIGHT OF ATLANTIS ~*~ makes no representations or warranties of any kind, express or implied, as to the operation of this site or the information, content, materials, or products included on this site.

~*~ LIGHT OF ATLANTIS ~*~ will not be liable for any damages of any kind arising from the use of this site, including, but not limited to direct, indirect, incidental, punitive, and consequential damages.