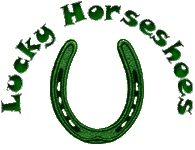 Good Luck

Anointed & Blessed

Wishes

Prosperity

Peace

Health

Gambling

Love

Money

Protection

Dreams

Horseshoes are considered a good luck charm in many cultures. The shape, fabrication, placement, and manner of sourcing are all important. A common tradition is that if a horseshoe is hung on a door with the two ends pointing up then good luck will occur. However, if the two ends point downwards then bad luck will occur. Traditions do differ on this point, though. In some cultures, the horseshoe is hung points down (so the luck pours onto you); in others, it is hung points up (so the luck doesn't fall out); still in others it doesn't matter so long as the horseshoe has been used (not new). In all traditions, luck is contained in the shoe and can pour out through the ends.

One reputed origin of the tradition of lucky horseshoes is the story of Saint Dunstan and the Devil. Dunstan, who would become the Archbishop of Canterbury in AD 959, was a blacksmith by trade. The story relates that he once nailed a horseshoe to the Devil's hoof when he was asked to reshoe the Devil's horse. This caused the Devil great pain, and Dunstan only agreed to remove the shoe and release the Devil after the Devil promised never to enter a place where a horseshoe is hung over the door.

~*~ LIGHT OF ATLANTIS ~*~ is proud to present you with "Authentic Lucky Horseshoe".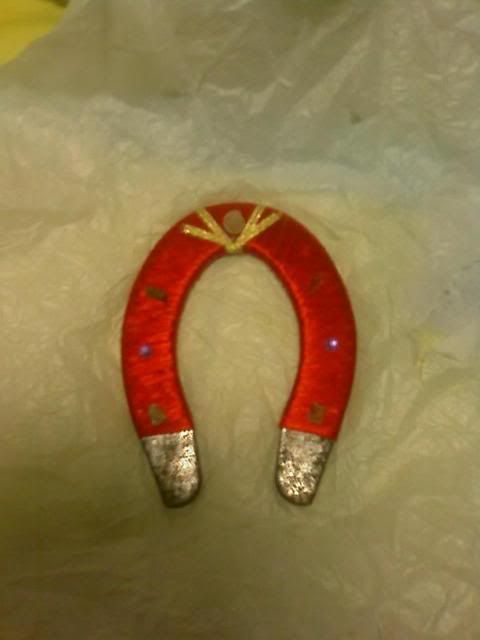 (Note: The picture is only an example. The size, outlook & shape of Authentic Lucky Horseshoe may varies as they are individually created, conjured & blessed, comes complete with instruction scroll on its care & uses together in unique beautiful bag or box.)

Merry Meet To All,

THESE ARE STRAIGHT FROM THE HORSES FOOT. All ~*~LOA~*~ Authentic Lucky Horseshoes are Fixed, Anointed & Blessed by a Bruja according to the Old Ways. The sizes varies from 5", 6", 7" & above. Do not expect them to look clean & new. For horseshoe to work it's good luck there are a few very important requirements.

1) Horseshoe need to be worn by a horse, collected when used & discarded by a horse.

2) Need to be cleansed by a Magick Worker or Bruja.

3) Dress the Horseshoe using the old ways in Red using special roots, botanicals, Curios & Magickal Oil.

4) The Horseshoe must be Blessed, Charged & Consecrated by a Magick Worker or Bruja using Ancient Incantations & Prayers.

5) Specific instructions must be followed while affixing this Lucky Horseshoe in your home, premise or place of business.

This is Exclusively available at ~*~ LIGHT OF ATLANTIS ~*~ subjected to availability for a Limited Time only. As Horseshoe is one of the most Famous Traditional Lucky Charm that is very effective in producing tangible results.
All enquiries & any special requests are welcome, feel free to contact me via PM or Email.

Good Luck!

Always remember these items are only tools and gateways to the Spiritual Realms, the TRUE MAGICK resides within YOU!




Blessed Be,
Oceanos



© copyright by ~*~ LIGHT OF ATLANTIS ~*~ All rights reserved.