My first phone, since I was a late entrant in the mobile phone consumer market...was already a phone with colour on the screen.
Dec 2006 - 2008. Nokia 2610....
Its still well and alive today, living with my mum. This dumb phone lasts nearly a week on a single charge even today with the same batteries. (3 of them on rotation basis) Most reliable of all my phones.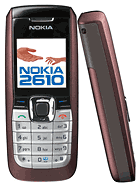 For a short period in 2008, probably 3 months, I was using Nokia E51, the version with no camera since I was still serving the nation. Nice phone, very solid build, but died the most tragic way while it was still brand-new when I came back half-dead from sailing, and then absent-mindedly deposited my coverall with my phone with it into the washing machine. Heard a THUD when I threw my clothes in, but thought nothing about it. Came back 5 min later realising what had happened, but it was too late. Phone was a complete loss.
It was back to the good old Nokia 2610 for the remainder of my NS. Then shortly after NS, around July 2009, purchased without plan, my slightly smarter but slim and sexy Sony Ericsson T700. Loved that phone to bits, but in Dec 2009, while still under warranty, phone suffered dead pixels on the screen, thereby starting a whole string of problems with this phone. Small phone with great voice....this phone's mp3 playing quality was fantastic.
Around April 2011, the phone started going bonkers and deleted my games, my contacts and failed whenever calls came in. Desperate to save my phone, repaired 4 times, to no avail, before finally accepting the inevitable in May 2011. As with the previous case, it was back to the old but super trusty Nokia 2610.
And then I decided to borrow my friend's Sony Ericsson W705I while waiting out for my plan to mature. Current phone I'm using now. Slightly smarter than the T700, with similar mp3 playing qualities.
End of story, back to work.