HomeTeamNS FREE Limited Edition Figurines On Selected MRT Train 20 Dec 2014 – 29 Mar 2015
The "HomeTeamNS Celebrates Life" campaign serves to recognise Singapore Police Force (SPF) and Singapore Civil Defence Force (SCDF) National Servicemen (NSmen) and their families by celebrating life's simple pleasures in a big way.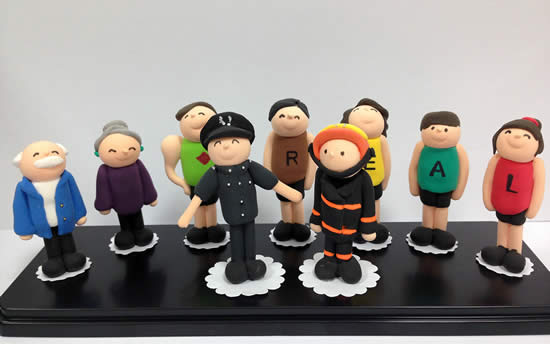 Hence, they are giving away 20,000 limited edition figurines as one of the unique ways to show appreciation towards our NSmen's contributions in making Singapore safe and secure.
The little figurines represent the closest people in our life that we wish to protect as well as serve as an effervescent reminder why we call Singapore our home.
In addition, each little figurine was carefully handcrafted to ensure that every piece is unique to illustrate certain life values that is synonymous with our newly transformed brand.
The list below provides a summary of life values that each little figurine symbolises.
These are the figurines
SPF NSman. ​The Protectors – Integrity, Security, Loyalty​
SCDF NSman. ​The Lifesavers – Care, Courage, Safety​
REAL Run Family​. The Family – Bonding, Sense of Belonging, Hope
​Pioneer Generation​​. The Pioneers – Resilience, Respect, Harmony​
Strongman. ​The Hero – Strength, Health, Camaraderie
Timing (Dates of Release)
The first batch of figurines will be distributed via a North East Line (NEL) train on Sat, 20 Dec 2014 up to Sun, 25 Jan 2015.
The second batch of figurines will be distributed via a North South Line (NSL) train from 21 Feb 2015 onwards until the end of the campaign on Sun, 29 Mar 2015
Replenishments of these figurines will only be done at each weekend for the above-mentioned periods. Only ONE train will be carrying limited quantities of the figurines during the weekends
These figurines cannot be purchased on the market as they are on a limited edition run
Other terms and conditions apply.
Sales on until 29 Mar 2015. For more info, click here.