The aunties have been talking about a makan thread since forever ...
oh well .. I'll start the ball rolling with my roasted pork shoulder then ...
Name: Bavarian Roasted Pork Shoulders and Knuckles
cooking time: 2 to 4 hours, depending on portion
ingredients:
Pork Knuckles (I bought a whole shoulder instead)
1 x can of beer (use a light lager)
some cooking port wine
sugar
salt
honey
corn starch
butter
cumin
thyme
1 x tablespoon of pepper corns
2 x pieces bay leaves
3 x stick celery
2 x carrots
2 x small onions
1 x stalk of leek
recipe:
1. boil the meat in a large stock pot with all the diced vegetables and half a can of beer and liberal splashes of the port wine, for at least 1.5 hours, but until the meat is semi cooked, white but with still some blood in it. throw in pepper corns, thyme, bay leaves, sugar and salt according to taste.
2. heat up oven to 300 degrees, cover roasting pan with butter, extract and dry knuckles from pot, place on roasting pa
3. mix corn starch, beer, honey, and some of the meat stock from boiling into a bowl. brush liberally onto meat
4. roast for 2 hours, reapplying above mixture every 10 minutes, throw cumin onto roast after applying mixture.
5. voila ! ... serve with boiled kantang, and lots and lots of (german ? ) beer... boiled vegetables and stock makes a good thick soup too ...
oh yeah ... the crispy, crackling skin is the best part, so don't throw them away eh ! ...
boiling the meat
skin going crispy in the oven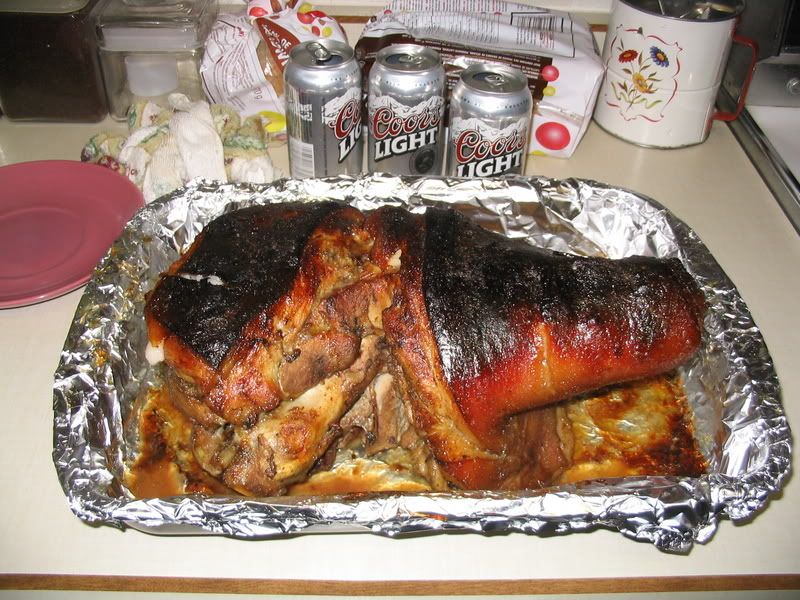 done ! ...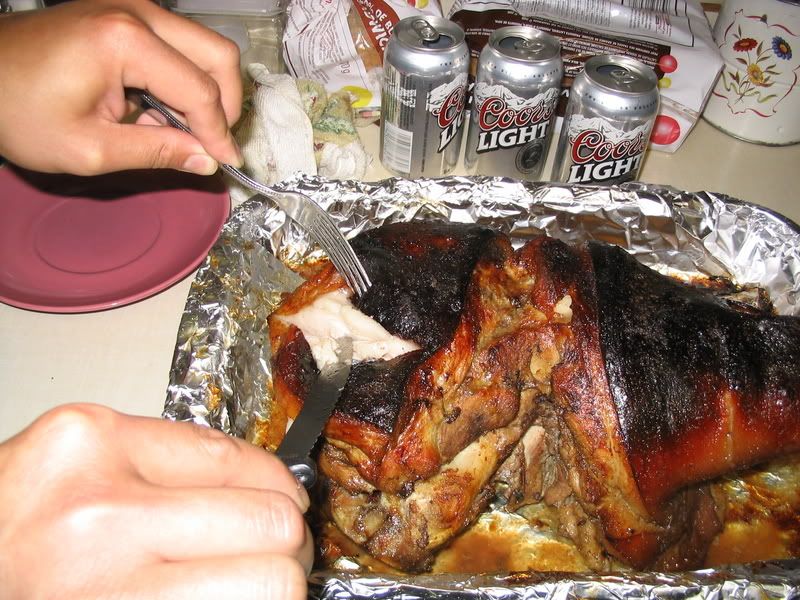 skin crackles and the juice (lard) flows ...