It is no secret that Old Trafford is one of the most daunting locations in the world to play at if you're not wearing a red shirt, but the mental resilience that the Champions League demands should see any team in the last 16 rise to the occasion. Unfortunately for Didier Deschamps, Marseille showed little in the way of such fortitude – especially early in the game – and it cost them a goal after just five minutes.
Devoid of momentum for the best part of the match, les Phoceens failed to keep the ball rolling after a critic-silencing 2-0 win over Stade Rennais at the weekend – a win that answered any questions regarding a lack of flair in OM's ranks.
Loic Remy and Andre Ayew were tremendous on Friday evening, something that should have given the French side hope after seeing regular string-puller Lucho Gonzalez marked out of the first leg. However, despite some glimpses of quality, there was to be no such luck on the whole, which left lone striker Andre-Pierre Gignac struggling for options and also with little on offer in the way of effective counter-attacking.
Wasted Chances

A demanding mistress, Europe's finest club competition requires not only mental strength, but the ability to turn opportunities into goals. For all of United's domination, OM actually managed to muster 12 clear chances, but failed to capitalize on a single one.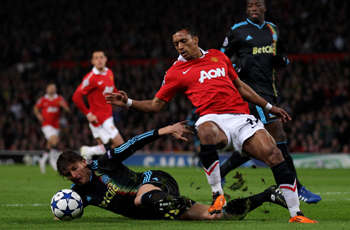 Perhaps still getting used to playing through the middle in the absence of Brandao, Gignac had a golden chance to square up the scoring just minutes after Chicharito had found the net for the first time. After Ayew dealt the striker a clean through ball, Gignac's attempt to side-foot the ball over the head of Edwin van der Sar sailed well over the bar – the first glance of Marseille's poor finishing.Then, Benoit Cheyrou managing to wriggle his way out of a crowded midfield for just a moment, and went on to present Diawara with a free header that would have been a goal on any other day. The defender slightly mistimed his six-yard nod and failed even to trouble Edwin Van der Sar, never mind shake the net.
And while the discussion could continue further with Remy's well-struck volley that just shaved the bar, or Cheyrou's close range attempt that forced heroics from United's Dutch 'keeper, the point can be summed up perfectly by the fact that, out of six corners won by the visitors, the only person who managed to find the net was Wes Brown.
Tactical Failure

Learning well from the first leg in France, Didier Deschamps recognized Gabriel Heinze's inability to cope with the pace of Nani. Opting cleverly to deploy Taye Taiwo at left-back instead, Nani was always beaten for pace, and that part of the plan seemed to have worked.
However, in playing Taiwo on the left, Heinze was forced inside, meaning one of the stand-out performers from the first leg, Stephane Mbia, was pushed into a defensive midfield role – a role Mbia has publicly stated he doesn't enjoy. With Rooney sitting deep, it was Mbia – with help from Cheyrou – who was charged with the task of keeping the forward quiet.
As Cheyrou looked to move forward and subsidize creativity due to a crowded-out Lucho, Mbia's individual marking ultimately failed to shackle Rooney, allowing him to orchestrate play beautifully. With this in mind, Nani's negated pace was never really a worry.
Failure To Exploit A Makeshift Defence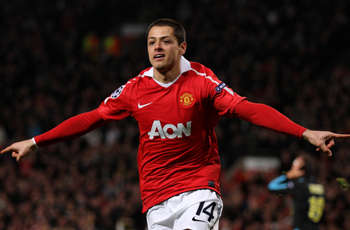 To give United their dues, they won the game and played very well, however, it was clear that there was communication breakdown between defenders. This was highlighted by Brown's own goal, but emphasized even further by the fact that United lost not one, but two right-backs to hamstring injuries on the night. Coming in off the back of a slick win over Stade Rennais, Marseille could have had a field day with United's makeshift back-line.
It may have taken a bit of reshuffling to compensate for Lucho's relative nullification from the game, but the center-backs were there for the taking, as was the flank that saw three different full-backs across ninety minutes. But despite the obvious problems at the back, the most effective crosser of the night was the Nani-shackling left-back Taiwo, who had to deliver from deep.
Lack Of Belief

At pivotal points in the game where Marseille should have been pushing to get themselves a foothold in the game, they floundered. At the midpoint of the first-half, when OM would have hoped to apply some pressure to fully recover from their early setback, captain Steve Mandanda's weak kick-out landed at the feet of Nani, almost gifting the hosts another goal. Soon after, Lucho, who is often billed as Marseille's inspiration, blazed a free-kick over the bar when he should have crossed from an acute angle.
With morale low and no one leading the charge outfield, it became increasingly obvious that Marseille lacked the belief and experience that it takes to be successful in Europe. And while the class might be just about there, the current French champions know that they must raise their game and learn from their mistakes on Tuesday night if they are to become true Champions League contenders in years to come.

more football news @ www.letgetlive.com